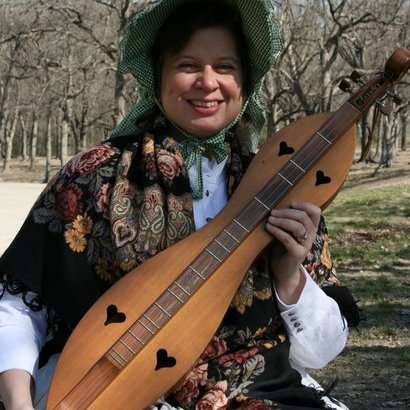 "Putting On The Old Folk's Clothes," an original song featuring Jenni's mountain dulcimer.
In 1980, Jenni visited Silver Dollar City in Branson, Missouri and fell in love with the sound of the mountain dulcimer.  The first mountain dulcimer she ever saw was being played by Mark Biggs.  Biggs happened to be a national champion at the instrument, and he was playing and selling the best around, McSpadden dulcimers made in Mountain View, Arkansas.  She decided that mountain dulcimers must be what the Angels play in heaven, not harps.  With the purchase of a dulcimer came a lesson from Biggs, and that got Jenni started.  From that time on, it became her favorite instrument.  A few years later Jenni became acquainted with her senior Arkansas cousins, Olaf and Orilla Pinkston of Cave City, Arkansas.  They were co-founders of the Ozark Mountain Folk Festival and influential folk musicians in the area, teaching generations of Ozark musicians and performing extensively throughout their lives.  Olaf played stand-up bass and guitar, Orilla played the accordion and … the mountain dulcimer.  Jenni's folk roots had found her after she had been playing folk music for years.
Contemporary covers and original music, traditional and historical songs, all find a place in Jenni's mountain dulcimer repertoire.  It's also an excellent instrument for work with young audiences, and Jenni never hesitates to let them get their hands on it.  The acoustic and string properties are self-evident on the instrument, so children are able to experience immediate success and insight.  Jenni also has experience teaching formal dulcimer lessons to groups and individuals including children and adults.
Although Jenni sometimes includes mountain dulcimer pieces in her original stage shows along with the guitar, the instrument also lends itself to special treatment.  When given the opportunity, she gladly builds shows on historical themes (such as music of the pioneers, or Texas Independence) that prominently feature the mountain dulcimer.
"The Crawdad Song," a traditional song featuring the mountain dulcimer.